Apparently, "a few" is more than three but less than 11. This definition doesn't make it easy for me to limit my choices of my favorite things, so I'll instead tell you what my favorite things are today. Warning: this is subject to change based on the day, weather, time, and/or frizziness of my hair. The order in which they appear is purely random.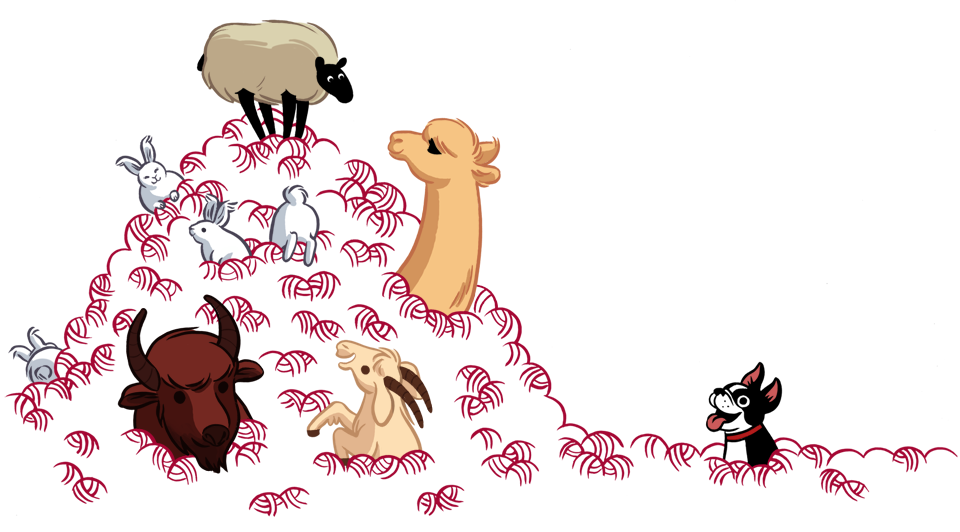 1. Ravelry
Ravelry
is a knitting and crocheting community on the internet, designed to allow crafters to share patterns they've written and pictures of projects they've completed. They can also ask for and give help on help forums, and browse a directory of thousands of patterns, many of which are free. I love this site, because it allows me access to so many free patterns. My favorite patterns lately are for baby hats for my recently-born niece and my soon-to-arrive nephew.
2. Amazon
I love this
website
. When I started college, I mainly used it for buying textbooks, but now Amazon and I are nearly inseperable. I love to decorate my home, but I also love to over-think everything. I can't just need a clock, go to Target and pick their cutest one. No, I scour the internet for weeks looking for the
perfect
clock, and when I find it, I second guess myself for several more weeks while I try to decide if it is, in fact, perfect or if it costs too much money. This year, Amazon gave me a free Prime membership (a promotion for students), which gives me free two-day shipping. They're just feeding my addiction. The above picture is the perfect clock, by the way. And I ordered it on Amazon last week. When I opened it yesterday, I saw the glass face was chipped and cracked, so I reported it to Amazon and shipped it back (free of charge, I might add), and I'll have a replacement tomorrow. I'm pretty pumped about that kind of customer service.
3. Design Blogs
I'm a sucker for a beautiful home decorating blog. I subscribe to more than I'll admit to in my Google reader, and I love pouring over inspirational photos and collections. I collect the photos that inspire me most, and use them to motivate me to make our apartment just a little bit more beautiful.
Apartment Therapy
,
Design*Sponge
and
Young House Love
are a few of my favorites.
4. Pinterest
I'm proud to say that I jumped on
this one
before it was a big deal. Meaning, I signed up for it before it was live. I put in my request and a week or so later was sent an "invite" saying that the site was no longer in beta mode and I was free to start pinning. It's a really cool concept, and if you're not careful, you could waste hours looking at the diverse pictures that show up just on the home page. It gives you a space to create pin boards on any subject you want, and you can go anywhere on the internet and "pin" images you like to your boards using a shortcut button. Then later you can find the images when you want them, and they'll be organized with similar images. It's really quite fun.
5. Friends
The real kind and the TV kind. My best friends from back home are coming to visit me this weekend, and I'm super pumped. In fact, I'm so busy being excited that I'm going to get to see them, that I haven't thought about where I'm going to put six people in this tiny two-bedroom apartment. Actually, bedroom is relative. There is only one bed in this apartment. There just happens to be an extra room that can't be called "living room" "kitchen" or "bathroom." That will be fun.
Also, my neighbor got me hooked, and I subsequently got Dave hooked, on Friends the TV show. We just started season 10, and I'm sad that it's going to end.
What's that? Oh yes, I know I'm pathetic. But you know you have your own guilty pleasure show, too. Don't deny it.
6. Ikea
I went to
Ikea
for the first time this summer (after spending weeks researching what I wanted to look at, of course), and I was blown away. That store is an experience in itself, but the fact that we could come away from it with much of our living room furniture, tables for our bedroom and a shelf for our kitchen (plus other miscellaneous things) for less than $300 was really what won my favor. Oh, that and the fact that everything looks so pulled together. I know it's not high quality furniture, but it's good looking, inexpensive, and made for small apartments like ours. We went again this weekend and picked up some random decorating things we'd been needing, such as baskets for the bottom of the Expedit-bookcase-turned-TV-console, and a rug for the living room.
These are a few of my favorite things. Today, anyway. What are your favorite things?