My dad has always been a Civil War history buff. He had shelves full of books on the subject, and nearly all of our family vacations included trips to famous battlefields or even reenactments. At some point when I was little, he started taking part in reenactments himself (dressing as a soldier and taking part in the battle), and when I was 12 or 13, he took the whole family to our first reenactment.
I was so excited. I too enjoyed American history. Perhaps I didn't appreciate it to the extent that my dad did, but what 13-year-old does? I spent all my free time reading, and my favorite genre was historical fiction. Perhaps my tastes were affected by my dad's affinity for the period, but many of the stories I read took place in that general time period. The idea of being able to step back in time, in a way, excited me.
I didn't care much for the battles, but I knew about them. I was most interested in the dresses that made the southern belles of the period look like so many princesses. I thought that at a reenactment I could don a hoop and be a princess for a day. My mom made me a gorgeous dress (even though historically I would have been too young to wear a hoop) and I convinced her to let me buy one. I was going to be gorgeous.
I had so much fun at that first reenactment, and our family attended several more over the years. Unfortunately, I was pretty much the only one who enjoyed them besides my dad. Mom could be persuaded to go to some of the larger events, but eventually we quit going.
Well, recently, I decided I wanted to go again. Never mind that we haven't gone in 5 years or that I'm now married to a man who's never even studied American history (he grew up in Africa. Give him a break). So, I told the Facebook world of my desire to time travel, and (as often happens when I post random requests for things that don't matter much to the interwebs), dad said he was thinking about going to one in October and would I like to join him.
Um, YES! How fun!
The only problem was that the weekend of the reenactment, Dave was working a wedding so he couldn't go with me, and I wouldn't have a car to get there. So, I began to think of who I could
con into going
take along with me. I was randomly talking to Anna (one of the sisters-in-law) about it, and she said she'd love to come! Later, Michele (another SIL) decided to come, too.
So, the three of us began to plan our time-traveling weekend!
I knew I wanted a new dress for the event; the last one I wore still fit, but had a poorly mended tear in the skirt (cars and hoop skirts don't mix...), and I wanted to see if I could do it. I began looking for inspiration.
I started, where else, but with
Gone With the Wind
! Granted, many of the costumes in this movie are not historically accurate, but they're close enough to begin visualizing what I wanted to try. Ideally, I wanted a dress that could have one skirt and two bodices, taking it from day to night with the least amount of fabric. I love many of the dresses in this movie, but the one that stood out to me was Scarlett's prayer dress, or the white fluffy one from the opening scene.
It's pretty. And ruffly. And 33 yards of fabric. Yikes.
I knew the top wouldn't do (the costume designer for the movie thought that the long sleeves worn during the day in the period made Vivien Leigh look too old and so she's nearly always seen in short sleeves--not something a young lady would have ever done during the day!), but I was in love with that skirt. I found fashion plates from Goodey's Ladies Book (the fashion magazine of the time) and came up with a game plan.
Both dresses are ruffled. One for the day, one for the night. So I thought maybe my crazy scheme just might work out. I knew I could make the skirt without too much trouble. The skirt is basically three huge panels all gathered together at the top, and then I'd have to add bunches of ruffles running down it. Not rocket science, but time consuming.
What had me worried was the bodice. I've spent the last week or so pouring over my mom's stash of Civil War patterns, and settled on one day dress and one ball gown. I've decided to tackle the ball gown first, just in case I can't finish both. After all, I still have my old dress that I can wear during the day.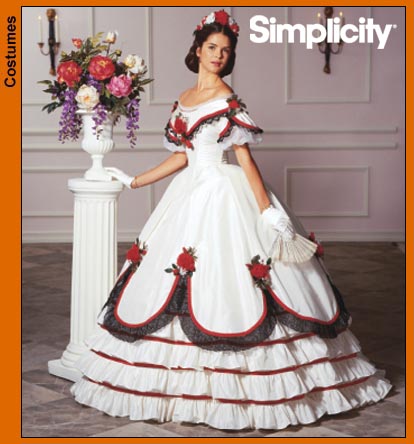 So far, all I've done is sew the skirt panels together. I'm planning on adding the waistband this week, and cutting out the bodice pieces. My parents have the hoop I'll be wearing, so I can't hem the skirt or figure out exactly the width, length or placement of the ruffles until I have that important addition. But I've purchased 20 yards of white muslin ($1.39/yard! Yay!) And have begun the long process of washing and ironing it.
I'm excited to see how it turns out, and I promise to keep you posted.
So, how about you? Do you have any nerdy secrets hiding in your past? Are you a history buff? Have you ever attempted a project that was totally beyond you, but had it magically turn out well (I hope so. I want to know that it's possible.)? What do you think of my dress idea? Let me know in the comments!